Happy Monday! I hope y'all had a great weekend. The Husband and I enjoyed a nice, relaxing weekend, which was just what I needed. We spent some time by the pool, ran some errands, tried out a new restaurant and caught up on things we DVR'd. It was glorious and it's hard to believe Monday is here.
Here are a few pics from our weekend. Why do the weekends go by so fast? :(
Saturday night's dinner at Do (as in Do, Re, Me and pizza dough!)
This place is so cool! Everything is ordered via ipad and you can even vote on songs to be played by the DJ through the Remote app on the iPhone. Songs with the most votes move to the top of the playlist.
It was so much fun! Absolute Awesomeness!
Our brownie dessert. It was delish!
We enjoyed the view of the Atlanta skyline from our table.
Necklace and bracelet recently purchased at local boutique, fab'rik.
I'm loving both pieces!
I'm traveling again this week but don't worry, posts should stay pretty steady. Hopefully I will have some fun adventures to share with you when I return. In the meantime, have you liked Social Sara on
Facebook
? Once I hit 100 likes, I will be doing another giveaway!
Cheers to making it a great week!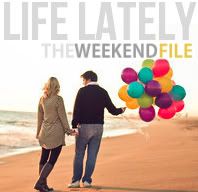 Be sure to check out all of these fabulous blogs!