Hi Friends! I hope you all had a wonderful weekend! Have you entered the "mini" giveaway yet? Only a few days left to enter!
Details here!
The Husband and I hit the repeat button and enjoyed yet another relaxing weekend at home with no plans. I could really get used to this! The weather was great and we spent all day Saturday and Sunday by the pool. It was HOT but really nice to hang out and soak up some rays.
When I got home on Friday, I was super excited to find a box on my doorstep. Here's a sneak peek...
I ordered a little something for an upcoming event and wedding. Pictures to come soon!
Friday night we went to dinner at
Bocado
. If you've been reading this blog from it's humble beginnings, you may remember my review on their
ah-mazing burger
. The Husband had never experienced the burger for himself and it was fine time he did. And I coveted every bite...
I had the pan roasted chicken with local grits, collards and white wine-tobasco sauce. It was indeed delicious and very southern. I enjoyed it and was glad I branched out and tried something other than the burger. The menu changes daily (impressive) but the burger is always available. There's always something new to try!
I must tell you about our appetizer though. It was out of this world! This appetizer was a southern's delight (much like my entree!). Georgia Peaches, big woods blue cheese, benton's 18month ham and balsamico (which is basically a balsamic vinegar reduction). It was topped off with a few leaves of arugala and olive oil. I can't even tell you how good it was! I tried to duplicate it before we headed out to dinner on Saturday night and I must say, it was good. I used prosciutto instead of the benton's ham and it turned out pretty well. I think the one very important trick is for the peaches to be really ripe. I'm definitely gonna try making it again. So darn good!
Saturday morning we ran a few errands and then rushed to get by the pool. That evening, we headed to
JCT Kitchen
, one of our absolute favorite restaurants in Atlanta, famous for their "Angry Mussels." You know how I feel about mussels. Enough said! I had to get my fix! :)
Picture taken half way in! Oops! :)
Sunday was pretty much the same as Saturday. We enjoyed an amazing message at church and then scurried home to get some lunch and then get by the pool. This girl is working on her tan!
And another weekend has flown by. How does this keep happening? I hope you had a nice weekend. In a few short hours, Monday will be behind us but until then...
I'm linking up at a few places today. Be sure to check them all out! :)
I'm linking up with Haley at
The Weekend File
and with Alli at
Life on Leroy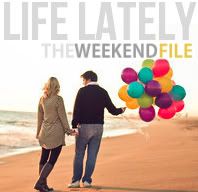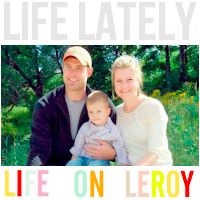 And also with Leeann at Join the Gossip, Dana at five30three, and Sami at Sami's Shenanigans.
Be sure to check out all of these awesome blogs!