Hi Friends! I apologize for the late day post but hey, better late than never, right? It's been a crazy week at work trying to get back into the swing of things and to top it off, I'm preparing to head to NYC tomorrow for a few days. 2013 has me jetsetting and it's only January! Crazy, I know. Anyway, I hope you will follow along on instagram (find me here:
social_sara
) and keep up with the craziness. Now, on with today's post. It's Wednesday and you know what that means...Randomness!
Here's a big, heeping scoop of it, just for you!
While I was home for Christmas, my lovely mother introduced me to the Instyler. I had heard of it but had not tried it yet (it's an investment). Have you tried it? Long story short, I fell in love with it and made it my personal mission to find one. Apparently a lot of other people fell in love too because every Ulta in the city of Atlanta was sold out of these puppies. Alas, I found one just before we left for Cabo at none other than Bed, Bath and Beyond. Score! And, I used a 20% off coupon...double score! Take that Ulta! :)
This nifty little tool became mine. Goodbye frizz and fly aways! It's amazing.
I hope to do a full blown review in the days to come so stay tuned...
I'm not sure about you but this weather is driving me crazy! One minute it's freezing cold and the next it's in the 70's. It's January, folks. But after Cabo and returning to 70 degree temps, I have a bad case of spring fever and it's January. This is not normal and it's sort of sad. We still have a few more months before it's spring for real which leaves me a little sullen. But, I have come up with the best compromise! I have resorted to bright colored toe nail polish to quinch my thirst for the spring time. I'm currently sporting this color...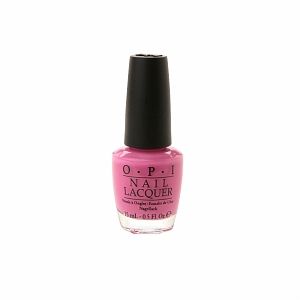 Seeing my pink toe nails when taking off my socks is a gentle reminder that spring
will be here soon enough.
With all this travel going on in my life, I've given a lot of thought to my luggage situation. Back in December, I purchased a new carry-on suitcase to replace one that I adored. The new one isn't quite as spacious as my beloved old one that bit the dust, which is disappointing to say the least. After a few trips with the new one, it really has me reevaluating my carry-on situation. I pride myself in the fact that I do not check luggage. It's not everyday that a (self proclaimed) high maintenance girl can go on an eight day international trip and not check a bag. I honestly have not checked a bag since the early 2000's. However, when we went to Cabo last week, The Husband and I decided to take one carry-on and check one bag containing sunscreen, etc. We typically just buy that stuff when we get there but this time, we decided to skip that step and just check a bag. Gasp! Thankfully our checked bag arrived in Cabo and back home to Atlanta in a timely manner and 100% in tact. That made me think, is it just easier to check a bag and be done with it? I'd love to know what you do.
Please share! I need your feedback!
This is the carry-on I just purchased. It does travel easily but it just doesn't hold as much.
Last but not least, there's a pretty awesome give away happening over at
Because Shanna Said So
. I'm giving away an Ulta gift card and another little surprise. I'd love for you to hop on over and enter!
Speaking of
Shanna
, I'm linking up with her today for Random Wednesday. While you are there entering the giveaway, be sure to check out the link up too.
I know you will find some new blogs to love on!
Have a great Wednesday, dolls!